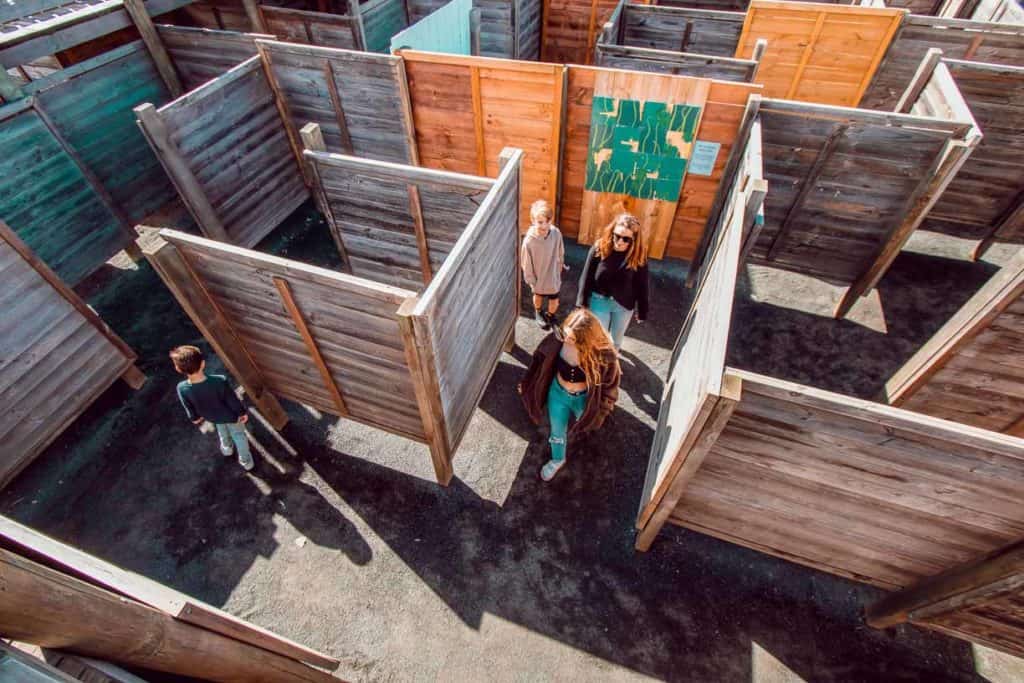 Margaret River sure does draw a crowd during spring school holidays. Holidaymakers head 'Down South' in search of sunshine, surf, wine, shopping, adventures, and delicious dining options. The good news is, there's all that and much more to discover.
The weather during spring school holidays in Margaret River can be unpredictable. It may be sunny and warm but bring a raincoat just in case!
Sunny day activities
Sea play by the bay
Busselton's award-winning playground near the Busselton Jetty offers hours of pirate-themed play for the kiddies. At the same time, adults can laze in the sunshine. You won't have to go far for treats and meals either. There are two excellent takeaway food options nearby: Salt (near The Goose) for loaded fries and burgers, and the Beach Shack (by the Equinox) is our go-to for ice cream and chips.
On yer bike
Dunsborough's flat landscape and stunning foreshore make biking easy and accessible. Rent bikes for the whole family at Bike Shed Dunsborough and receive a Holiday Advantage member discount of 20% off.

Test your skills
Ever fancied yourself as a bit of a Robin Hood? If so, you better sharpen your archery skills at Busselton Archery. Choose from target practice, or if you want some competitive fun, try the archery tag. Don't worry, the arrows are made of soft foam.
Beach picnic
Sunny days are perfect for eating outdoors. Put a modern spin on the family picnic with a takeaway wood-fired pizza from Peace Pizza in Dunsborough. Then, head to the beach for a sunset beach dinner.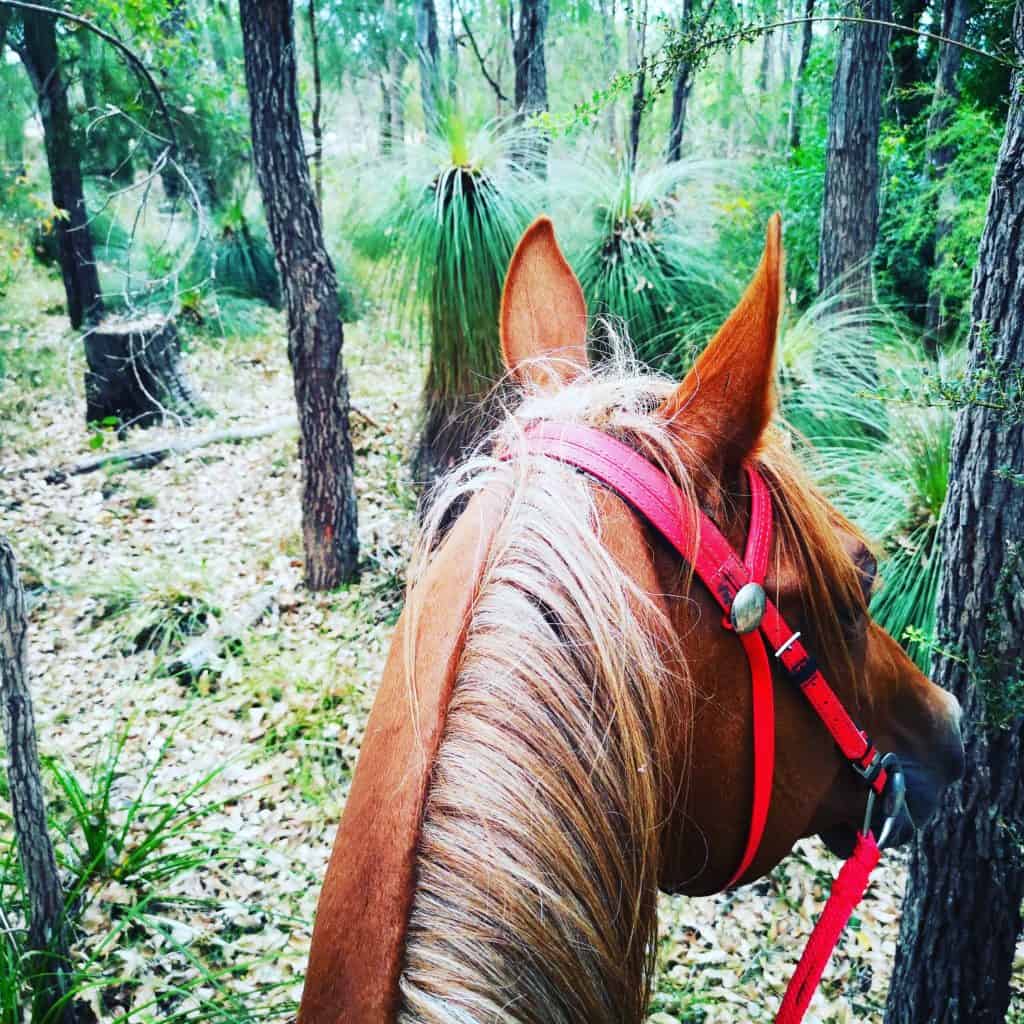 Overcast day adventures
These activities are great, even on a cloudy or drizzly day.
Hop on a horse
The Humble Horse offers pony rides, trail rides, and riding lessons for horse enthusiasts. Horseback riding is a fantastic experience that the whole family can share, and a great way to see the countryside.
Zipline/tree climbing
School holidays in Margaret River really should involve some adventures. And there's no better family adventure then ziplining and tree climbing. Just near Busselton, there's Forest Adventures South West for families with kids aged 7 and older. Great for beginners and brave-hearted tree climbers!
In Dunsborough, Next Level Monkey Business has suitable courses for kids as young as 4 years old, and a mega zipline across a lake. Who's game!?
Get on the open water
Spring is the season for whale watching in the Margaret River region. All Sea Charters in Busselton and Naturaliste Charters in Dunsborough both offer ocean sailings to spot the migrating whales. If you haven't experienced whale watching on the open water, it's truly one for the wish list.
Burger bliss
Rain, shine, sleet, or wild weather – anytime is burger time in Margaret River. Refuel and satisfy your cravings at Burger Baby on the main street of Margs with these soul-feeding mega-burgers.
Get lost
Yallingup Maze has an outdoor maze and natural play area, plus a huge indoor space with puzzles and games. There's also a gift shop and onsite cafe with coffee, treats and cafe-style meals – all made in house.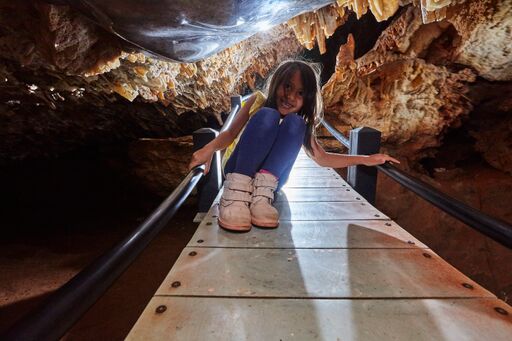 Rainy day fun
What's underneath?
School holidays in Margaret River is a beautiful time to visit some of the region's cave systems. Ngilgi Cave and Mammoth Cave are both brilliant for kids. Ngilgi has the optional crawl tunnel and semi-guided tours so you can explore at your own pace. Mammoth is audio-guided, so you don't have to follow a tour group. There's a small stream running through the cave too from August to October, and a forest walk after, with stepping stones to cross the creek.
Reptile revelling
Rainy days are for reptiles. Kids are often fascinated by creepy crawlies, and you'll find them all at Discover Deadly, a reptile park on Wildwood Road in Carbunup, just off the Bussell Highway. Think snakes, spiders, lizards, frogs, geckos, crocodiles, bearded dragons and more.
Eat and play
The Dunsborough Tavern is perfect for rainy day dining because they have a fantastic indoor playground. The family-friendly menu will keep everyone fed, and the excellent craft beer on tap and local wine list will keep the adults happy.
Bounce around
On your way to Margaret River for school holidays, or on your way home, drop into Gravity ETC near Bunbury to let the kiddies bounce off that excess energy that often brews in children on road trips.
Bee happy
Check out real live bees at Colony Concept! These bees work hard all day long making honey to share with us humans. Sample the various flavours and varieties and see if you can tell the difference. Afterwards, stay for a delicious gourmet lunch or cake and coffee.
Feel like a kid in a candy shop
It doesn't matter how old you are, a visit to the lolly shop is always a good time. And school holidays in Margaret River must include lollies! Candy Cow in Cowaramup offers Holiday Advantage members buy-one-get-one-free homemade honeycomb! There are free fudge samples, and rows upon rows of colourful lollies to choose from, too. There's no way you can leave here empty-handed.
Be first to receive South West insider tips + deals. Join our mailing list here: