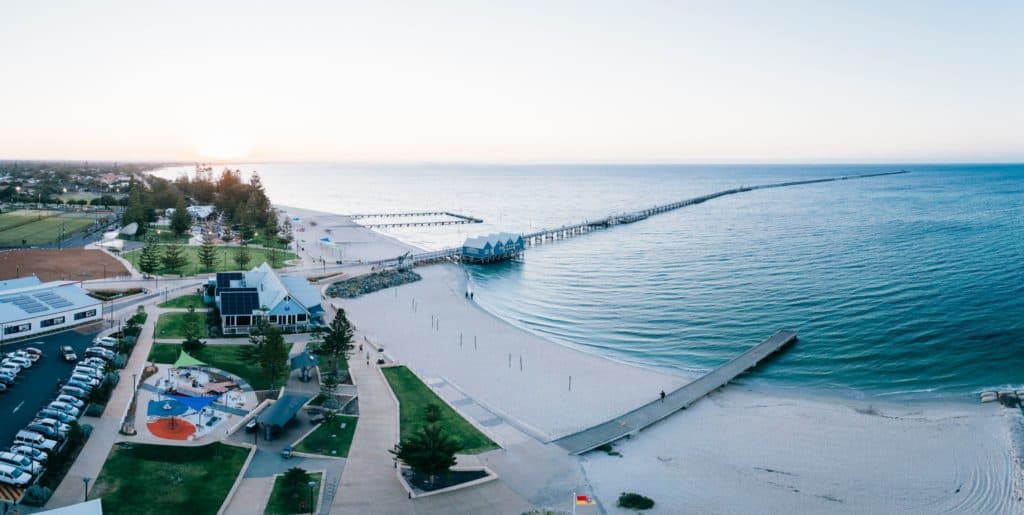 Discover the best of this South West city in 48 hours with our 'how to' guide.
The city of Busselton may be part of the Margaret River region, but it's a worthwhile holiday destination all on its own. Think beaches, ocean adventures, playgrounds, cafe culture, forest fun, shopping and wine tours.
Whether you're arriving in the morning, afternoon, or evening, our 48 hours in Busselton itinerary will give you many chop and change ideas to make your stay active and exciting.
48 hours in Busselton – day one
Morning
If you're travelling from Perth, start or finish your holiday with a stop into the Dolphin Discovery Centre in Bunbury. Here, you'll find wild dolphins visiting the beach around 8am/9am during the summer. There aren't any dolphins in captivity, but you can learn all about marine life at the wonderful interpretive centre where you'll also get to see rescued sea critters such as starfish, octopuses, and seahorses.
Also on the way to Busselton is Forest Adventures South West, a family-friendly zip-line and tree climbing park. Bookings last two hours, which allows you to make your way around the courses set amongst the Tuart Forest. Do a little, or do a lot but remember to bring your bravado. Suitable for ages 7 and older.
If you take the mentioned stops, you're bound to be good and hungry by the time you arrive into the city to continue your 48 hours in Busselton.
Afternoon
Located on Queen Street is Hummingbird Café where Holiday Advantage members will receive 20% off their bill. Fill empty bellies with smoothies, burgers, salads, and soup of the day for lunch served from 11:45am until 2pm daily.
Need a holiday book to read? Head to Barefoot Books in Fig Tree Lane for a wide section of fiction, non-fiction, and kids' books.
Round off your afternoon with a game of mini golf at The Par 3 + Minigolf, just a short drive from Busselton CBD. It's a great way to have some competitive fun and get some exercise too.
Evening
The Equinox on the Busselton Foreshore offers impressive views of the seaside and jetty. Watch out for dolphins playing in the shallows and stunning sunset colours over the bay. Peruse the menu over a cool glass of local beer or fine wine as you relax into your evening. This family restaurant is perfect for diners who like Aussie favourites like chicken parmi, Scotch fillet, fish and chips, and salt and pepper squid. Dinner is served from 5:30pm.
48 hours in Busselton – day two
Morning
Spend the morning getting to know Busselton with a walk along the foreshore – sunrise is beautiful. It allows opportunities for photography and wildlife spotting.
Grab breakfast from The Goose Beach Bar & Kitchen where you'll continue to soak up amazing views of the iconic Busselton Jetty.
Wine lovers can indulge their passion with a full day wine tour with Grape Escape Tours. Their Pawesome Tours are designed especially for guests with pets. Don't have your own dog? No worries, you can request for Gizmo-Pierre, a darling French Bulldog, to join your tour.
If you're all about craft beer, check out The Margaret River Experience. They offer private tours that include a couple of breweries for beer lovers.
Afternoon
Travel to nearby Vasse for lunch at Bohemian Brew. Housed in a quaint stone cottage, this cafe serves an all-day menu featuring brunch favourites like BLT club sandwiches, big breakfasts, eggs Benny, quiche, salads, pancakes, and more.
Book an afternoon sailing with All Seas Charters for some whale watching. The knowledgeable and experienced crew know where migrating humpbacks and southern right whales like to hang out. Keep warm with complimentary tea, coffee, and sweet treats.
Don't fancy the high seas? Spend the afternoon at Chestnut Brae, a marvellous chestnut orchard. An easy and beautiful 30-minute drive from Busselton will take you to Nannup, where you'll find this sprawling 70-acre chestnut farm. It's a pretty place for photos, and of course, you'll learn everything there is to know about the healthy chestnut.
Evening
Head back to The Goose for sunset brews followed by dinner overlooking the bay and last light. Portions are generous, and the place has a completely different vibe at night.
When your 48 hours Busselton comes to an end, be sure to stop at BGs Farmstand on your way out of town. You'll find the best quality local honey and fresh produce to take home with you.
Be first to receive South West insider tips + deals. Join our mailing list here: